Saints Cyril & Methodius Catholic School Home
Home Page Main Image Shuffle
Catholic Schools Make a

Difference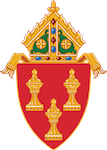 It Is Here Where Students Shine
Check out the New Health & Safety Initiatives Page from our Office of Catholic Schools!
Thank you for visiting our new website! Please check back often as updates are made, and click on article headlines to view full stories where applicable.
Thursday, January 21, 2021 - The students participated in educational activities, projects and assignments throughout the day. They ended their day sharing a snack with their friends.
Date:
Time: 10:30 AM – 1:30 PM